TRIP contributes to a series of broader efforts to bridge the gap between the study and practice of International Relations by providing evidence and analysis aimed at understanding the theory/practice divide. TRIP research has been funded for several years by the MacArthur Foundation and by the Carnegie Corporation of New York.
Carnegie also supports a range of different efforts to understand the relationship between IR scholarship and teaching on the one hand, and IR as practiced by policymakers and officials on the other. For example, in addition to the TRIP project, Carnegie supports the Policy Relevance Project at the University of Notre Dame, the Bridging the Gap Project housed at American University, and the Rigor and Relevance Initiative.
TRIP data in this research area, including faculty opinion and results to all snap polls, can be found through our Data Dashboard. In a project directly related to this question, TRIP has hosted a series of conferences that bring scholars and practitioners together and currently have an edited book under review based on that series. Other scholars have made significant contributions to this area as well.
Below you will find articles, authors, and data who have helped investigate the gap! When available, we include links to their website and/or faculty page, the full article, and the relevant data.
We also invite you to take a look at our report on policy relevant rankings here!
---
Reaching Beyond the Ivory Tower: A How To Manual
Security Studies
Daniel Byman and Matthew Kroenig | May 2016
Many scholars are drawn to political science research with hopes that their ideas will influence important policy debates. Unfortunately, scholars who want to shape policy often do not design research appropriately or take advantage of available conditions and opportunities to advance their ideas. This article identifies the conditions under which ideas of academics—and nongovernment knowledge in general—are more likely to be considered by and influence those in the policy world. To reach beyond the ivory tower, we argue that scholars should design research that might produce actionable findings and recommendations, identify moments of ripeness in policy debates, and inject their ideas into the policy process. For those who want to conduct rigorous academic scholarship and influence real-world debates, we provide the strongest possible encouragement and hope that our advice proves helpful.
Gender, Teaching Evaluations, and Professional Success in Political Science
PS: Political Science & Politics
Lisa Martin | April 2016
Evaluations of teaching effectiveness rely heavily on student evaluations of teaching. However, an accumulating body of evidence shows that these evaluations are subject to gender bias. Theories of leadership and role incongruity suggest that this bias should be especially prominent in large courses. This article examines publicly available data from two large political science departments and finds that female instructors receive substantively and significantly lower ratings than male instructors in large courses. The author discusses the implications of apparent gender bias in teaching evaluations for the professional success of female faculty. Findings of gender bias in evaluations in other fields also hold in political science and are particularly problematic in the evaluation of large courses.
What Do Policymakers Want From Us? Results of a Survey of Current and Former Senior National Security Decision Makers
International Studies Quarterly
Paul C. Avey and Michael C. Desch | December 2015
What do the most senior national security policymakers want from international relations scholars? To answer that question, we administered a unique survey to current and former policymakers to gauge when and how they use academic social science to inform national security decision making. We find that policymakers do regularly follow academic social science research and scholarship on national security affairs, hoping to draw upon its substantive expertise. But our results call into question the direct relevance to policymakers of the most scientific approaches to international relations. And they at best seriously qualify the "trickle down" theory that basic social science research eventually influences policymakers. To be clear, we are not arguing that policymakers never find scholarship based upon the cutting-edge research techniques of social science useful. But policymakers often find contemporary scholarship less-than-helpful when it employs such methods across the board, for their own sake, and without a clear sense of how such scholarship will contribute to policymaking.
What Pivot? International Relations Scholarship and the Study of East Asia
International Studies Perspective
Lindsay Hundley, Benjamin Kenzer, and Susan Peterson | August 2015
Scholars of international relations (IR) simultaneously believe that their work is policy-relevant and that a gap exists between the academic and policy worlds of IR. Using data from the 2011 Teaching, Research, and International Policy (TRIP) survey and the TRIP journal article database, we explore this disjuncture in one specific area, research on East Asia. If US scholars' work addresses policy-relevant issues, as they believe, we would expect academic work to provide insights on a region that US policy makers have long thought to be growing in strategic importance. We find that academics recognize the strategic significance of East Asia, but comparatively few scholars teach about or do research on the region. Compared with the IR discipline more broadly, published research on East Asia is more paradigmatic, qualitative, and oriented toward the study of international political economy. The neglect of East Asia and the systematic differences in the way it is studied have potentially important consequences for the study and practice of IR.
Technique Trumps Relevance: The Professionalization of Political Science and the Marginalization of Security Studies
Perspectives on Politics
Michael C. Desch | June 2015
I explain here the disconnect between our discipline's self-image as balancing rigor with relevance with the reality of how we actually conduct our scholarship most of the time. To do so, I account for variation in social scientists' willingness to engage in policy-relevant scholarship over time. My theory is that social science, at least as it has been practiced in the United States since the early twentieth century, has tried to balance two impulses: To be a rigorous science and a relevant social enterprise. The problem is that there are sometimes tensions between these two objectives. First, historically the most useful policy-relevant social science work in the area of national security affairs has been interdisciplinary in nature, and this cuts against the increasingly rigid disciplinary siloes in the modern academy. Second, as sociologist Thomas Gieryn puts it, there is "in science, an unyielding tension between basic and applied research, and between the empirical and theoretical aspects of inquiry." During wartime, the tensions between these two impulses have been generally muted, especially among those disciplines of direct relevance to the war effort; in peacetime, they reemerge and there are a variety of powerful institutional incentives within academe to resolve them in favor of a narrow definition of rigor that excludes relevance. My objective is to document how these trends in political science are marginalizing the sub-field of security studies, which has historically sought both scholarly rigor and real-world relevance.
Knowledge Without Power: International Relations Scholars and the US War in Iraq
International Politics
James D. Long, Daniel Maliniak, Susan Peterson, and Michael J. Tierney | January 2015
In this article we present several important first steps toward understanding the role of academics in shaping US foreign policy – identifying their policy views on one of the most salient foreign policy issues of this generation, the US War in Iraq; exploring how those views differ from public opinion more generally; and assessing the extent to which scholarly opinion was reflected in the public debate. To determine how IR scholars' views on the invasion of Iraq differed from those of the public, we compare the answers of IR scholars at US colleges and universities to those of the US public on similar opinion survey questions. To this end, we analyze data from a unique series of surveys of IR scholars conducted by the Teaching, Research, and International Policy project.
A Gap Exists! (But It Is Smaller And More Specific Than You Might Think)
One Earth Future
Lindsay Heger | November 2014
In recent decades, many who are involved in international relations and foreign policy have bemoaned the increasing divide between what practitioners do and the issues scholars research. Accusations from both sides have detailed what appear to be entrenched institutional cultures with few possibilities for change. The bridge linking these two communities appears to be broken. Despite myriad attacks, evidence on either side of the divide is desperately lacking. In this report we present a preliminary analysis of original data intended to shed light on the extent and type of gaps between scholars and different types of practitioners. Our examination reveals that the practitioners are, in fact, consuming research and scholarly material. This is consistent for all types of practitioner organizations including non-governmental organizations, intergovernmental organizations, governmental institutions, and business associations. However, a preliminary analysis of scholarly behavior reveals a very different trend whereby scholarly work seems much more isolated to scholarly circles. Thus, we conclude that a one-way bridge is a more accurate characterization of the connection between the practitioner and scholarly communities.
What Do Policymakers Want From Us? Results of a Survey of Current and Former Senior National Security Decision Makers
International Studies Quarterly
Paul C. Avey and Michael C. Desch | June 2014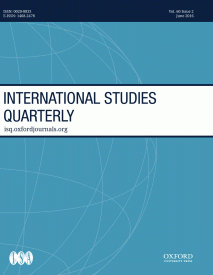 What do the most senior national security policymakers want from international relations scholars? To answer that question, we administered a unique survey to current and former policymakers to gauge when and how they use academic social science to inform national security decision making. We find that policymakers do regularly follow academic social science research and scholarship on national security affairs, hoping to draw upon its substantive expertise. But our results call into question the direct relevance to policymakers of the most scientific approaches to international relations. And they at best seriously qualify the "trickle down" theory that basic social science research eventually influences policymakers. To be clear, we are not arguing that policymakers never find scholarship based upon the cutting-edge research techniques of social science useful. But policymakers often find contemporary scholarship less-than-helpful when it employs such methods across the board, for their own sake, and without a clear sense of how such scholarship will contribute to policymaking.
Where is IR Going? Evidence from graduate training
International Studies Quarterly
Jeff Colgan | June 2014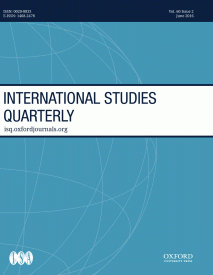 Recent debates about the state of International Relations (IR) raise the possibility that the field is losing its theoretical innovativeness due to professional incentives to churn out publications. Yet the claims made about IR far outstrip the availability of empirical data. Important assertions derive from a handful of examples rather than systematic evidence. This paper presents an investigation of what gets taught to doctoral students of IR in the United States. I find, among other things, that the type of research most frequently published in IR journals differs in systematic ways from the type of research taught to graduate students. In turn, this raises important questions such as whether certain types of valuable research face a relative disadvantage when it comes to getting published in the first place. The evidence also points to the partial separation of IR from Political Science in the United States. Further, it casts doubt on the growing practice of using Google Scholar to measure research influence. A new metric, which I call the Training Influence Score (TIS), supports the analysis.
In-And-Outers and Moonlighters: An Evaluation of the Impact of Policy-making Exposure on IR Scholarship
International Studies Perspectives
Brad Parks and Alena Stern | February 2014
Some international relations (IR) scholars lament the divide that exists between the academic community and the policy community. Others celebrate it. In this article, we test a core proposition advanced by advocates of bridging the policy-academy divide: that direct engagement in the policy-making process will make international relations scholars more adept at designing, undertaking, and communicating research in ways that are useful and relevant to policymakers. Using a difference-in-differences estimation strategy, we evaluate whether and to what extent direct exposure to the policy-making process influences how IR scholars select publication outlets. We define and evaluate policy-making exposure in two ways: periods of public service in which faculty members temporarily vacate their university positions to work for governments or intergovernmental organizations; and instances in which faculty members undertake substantial consulting assignments for government agencies and intergovernmental organizations. Our findings suggest that "in-and-outers"—faculty members who temporarily leave the ivory tower to accept policy positions—return to the academy with new perspectives and publication priorities. By contrast, we find no policy-making exposure effect among "moonlighters." Our results suggest that IR scholars are no more likely to publish in policy journals after doing part-time consulting work for governments and IOs.
Leaving Theory Behind: Why Simplistic Hypothesis Testing Is Bad for International Relations
European Journal of International Relations
John Mearsheimer and Stephen M. Walt | September 2013
Theory creating and hypothesis testing are both critical components of social science, but the former is ultimately more important. Yet, in recent years, International Relations scholars have devoted less effort to creating and refining theories or using theory to guide empirical research. Instead, they increasingly focus on 'simplistic hypothesis testing,' which emphasizes discovering well-verified empirical regularities. Privileging simplistic hypothesis testing is a mistake, however, because insufficient attention to theory leads to misspecified empirical models or misleading measure of key concepts. In addition, the poor quality of much of the data in International Relations makes it less likely that these efforts will produce cumulative knowledge. This shift away from theory and toward simplistic hypothesis testing reflects a long-standing desire to professionalize and expand the International Relations field as well as the short-term career incentives of individual scholars. This tendency is also widening the gap between the ivory tower and the real world, making IR scholarship less useful to policymakers and concerned citizens. Unfortunately, this trend is likely to continue unless there is a collective decision to alter prevailing academic incentives.
The 2012 TRIP Survey of International Relations in Australia: One Problem to Rule Us All
Australian Journal of International Affairs
Lee Morgenbesser | July 2013
Lee Morgenbesser analyzes the results of the most recent and largest cross-national survey on the international relations discipline. Completed by scholars in 20 countries, the survey covers the areas of teaching, research, foreign policy, the profession and the relationship between policy and academia. From an Australian perspective, the key findings include the strong link between what academics teach and research; the narrowing epistemological gap between the U.S. and Australia; the curious pessimism of scholars on a wide range of foreign policy issues; and the ability of scholars to define research quality independently of other national settings. The most significant and alarming finding, however, concerns how the present structure of the field is undermining scholars' attempts to forge closer, more influential ties with policymakers in Canberra. In fact, it is clear from the results that what academics research and how they go about it is actually counterintuitive to this goal. The article concludes with three recommendations aimed at rectifying this problem.
The Role of Experts in the European Union's Research Policy
Review of Policy Research
Merli Tamtik and Creso Sá | November 2012
This research analyzes the role of experts in the European Union's policy-making process. Focusing on the field of research policy, this study seeks to probe how expert participation in the Open Method of Coordination informs policy decisions. The paper reports on an analysis of the expert group in the European Internationalization Strategy in Science and Technology. Our analysis reveals the dynamics of expert participation at the micro level, as it identifies who these experts are, how they are appointed, and in what ways expert knowledge gets used in policy making.
TRIP Around the World
The Institute for the Theory and Practice of International Relations
Daniel Maliniak, Susan Peterson, and Michael J. Tierney | May 2012
How do IR scholars' views about teaching, research, the discipline, and contemporary policy issues vary across the globe? This report provides descriptive statistics on the responses of IR scholars from 20 countries. This is the 4th such survey that TRIP researchers have conducted since 2004 and the first to break the language barrier, including Spanish, French, Portuguese, and Turkish speaking scholars in the survey. The TRIP survey is one part of a broader effort to explore trends in the academic study of IR and to assess the relationship between IR scholars and practitioners.
Read the full article (pdf)
International Relations in the U.S. Academy
International Studies Quarterly
Daniel Maliniak, Amy Oakes, Susan Peterson, and Michael J. Tierney | June 2011
TRIP researchers recently published an article in the June 2011 issue of International Studies Quarterly that addresses a number of questions about the nature and trajectory of the IR field within the United States. Using two new data sources to describe trends in the international relations (IR) discipline since 1980-a database of every article published in the 12 leading journals in the field and three surveys of IR faculty at US colleges and universities - we explore the extent of theoretical, methodological, and epistemological diversity in the American study of IR and the relationship between IR scholarship and the policy-making community in the United States. We find, first, that there is considerable and increasing theoretical diversity. Although US scholars believe and teach their students that the major paradigms-realism, liberalism, Marxism, and constructivism-define and divide the discipline, most peer-reviewed research does not advance a theoretical argument from one of these theoretical traditions. There is no evidence, moreover, that realism and its focus on power relations among states dominate, or since 1980 ever has dominated, the literature. Second, although three times as many IR scholars report using qualitative methods as their primary approach, more articles published in the top journals currently employ quantitative tools than any other methodological approach. Third, there exists little epistemological diversity in the field: American IR scholars share a strong and growing commitment to positivism. Finally, there is a disjuncture between what American scholars of IR think about the value of producing policy-relevant work and the actual research they generate: few articles in top journals offer explicit policy advice, but scholars believe that their work is both prescriptive and useful to policymakers.
Read the full article (pdf)
Anglo-American Followers or Antipodean Iconoclasts? The 2008 TRIP Survey of International Relations in Australia and New Zealand
Australian Journal of International Affairs
J.C. Sharman and Jacqui True | April 2011
This article examines the results of the world's largest ever survey of international relations (IR) scholars with an eye to establishing the particularities of the discipline in Australia and New Zealand. The survey covered the areas of teaching, research, the structure of the profession and scholars' views on foreign policy. From these results, this paper compares IR in New Zealand and Australia, and discusses the extent to which the discipline in these two countries is distinctive from its overseas counterparts, especially in the United States and the United Kingdom. The particular areas of focus include the degree to which the field in Australasia conforms to or differs from US or Commonwealth identities; epistemological and gender divides; the distinctive foci of what IR scholars in both countries teach and research; which publications are favored and disfavored; and the contrasting linkages between academia and the world of government and policy. We conclude with some suggestions about how the field in both countries might be improved.
Read the full article and explore the data
Rising Asian Powers and Changing Global Governance
International Studies Review
Ann Florini | March 2011
International Relations (IR) scholarship is directly in the path of two simultaneous tidal waves. The first is the rise of China and India in the traditional IR terms of military and economic power. The second is the expanding nature of what IR scholarship needs to address, as global integration transforms the nature of the issues to be addressed and numerous trends expand the number and types of relevant actors. Neither theory nor practice is yet coping well with the profound implications of these fundamental changes. Investigating what kind of a world order might emerge from these two simultaneous tsunamis will require an enormous research agenda that explores the roles of ideas, structural factors, and path dependencies across regions and issue areas. This article aims to illuminate a subset focused around the connection between theory and practice as related to two emerging powers. It briefly maps developments in Western IR theory and explores how those connect—or fail to connect—with intellectual and policy currents in the rising Asian giants. It draws on a number of interviews and workshops held in Asia in the past two years that explore how Asian scholars and policymakers are dealing with, and perhaps beginning to shape, the rapidly changing conceptual landscape.
Delegation Success and Policy Failure: Collective Delegation and the Search for Iraqi Weapons of Mass Destruction
Law and Contemporary Problems
Michael J. Tierney | Winter 2008
Tierney examines the role of the UN, United Nations Monitoring, Verification, and Inspection Commission (UNMOVIC) and the International Atomic Energy Agency (IAEA) regarding the U.S. effort to authorize the use of force against Iraq. The case suggests several lessons for scholars interested in analyzing the legal and political issues raised by international delegation. Perhaps more important than the lessons directed at scholars and their endeavors, the case of UN weapons inspectors in Iraq suggests that delegation to international bodies can shape the political costs of foreign-policy choices by powerful states. If generalizable, this finding provides lessons for policymakers and citizens as well. Once authority has been delegated, even if the authority is limited to monitoring compliance and providing information, this prior decision can have profound effects on outcomes in international politics - such as the probability and the costs of war. Finally, both for domestic and international political reasons, there are good reasons to think that democratic states (even powerful ones) will be increasingly reluctant to use military force without the imprimatur of the UN Security Council.
The Review's Evolving Relevance for US Foreign Policy 1906-2006
American Political Science Review
Andrew Bennett and G. John Ikenberry | November 2006
We review the relevance of the international relations articles published in the first 100 years of the Review for American foreign policy. We define a spectrum of "policy relevance" and give a brief overview of the Review's changing relationship to American foreign policy as the journal, the profession, and the foreign policy process evolved over the last century. We then look at the Review's role in key periods in American foreign policy, focusing in particular on the example of the democratic peace literature. We conclude that although the content of the journal has moved away from early aspirations to near-term and direct policy relevance, the journal has evolved toward basic research that influences American foreign policies by affecting what scholars teach students, publish in policy journals, write in newspaper op-eds, say on the media, advise political leaders, and do when they are themselves in public office.
The coevolution of American Political Science and the American Political Science Review
American Political Science Review
Lee Sigelman | November 2006
In November of 1906, the 3-year-old American Political Science Association, boasting a membership of "nearly four hundred" (Shaw 1907, 185), launched a journal devoted to scholarship, reviews, and news of the profession. The fledgling American Political Science Review was not the first political science journal, having been preceded by Political Science Quarterly (founded in 1886) and the Annals of the American Academy of Political and Social Science (1890). Nor, at first, was it even the foremost political science journal. Its founding editor, W. W. Willoughby of Johns Hopkins (1906–1916), and his immediate successor, John A. Fairlie of the University of Illinois (1917–1925), faced numerous challenges, not least that of finding enough papers to fill each issue; even after two decades the Review was still publishing "nearly all of the papers which have come to the editor…as well as articles from other sources" (Fairlie 1926, 182). For some time thereafter, Fairlie's successor, Frederic A. Ogg of the University of Wisconsin, handled just three dozen or so manuscripts per year (Patterson 1994, 6).
Who Influences U.S. Foreign Policy?
American Political Science Review
Lawrence Jacobs and Benjamin Page | February 2005
Research in international relations has identified a variety of actors who appear to influence U.S. foreign policy, including experts and "epistemic communities," organized interests (especially business and labor), and ordinary citizens or "public opinion." This research, however, has often focused on a single factor at a time, rather than systematically testing the relative importance of alternative possible influences. Using extensive survey data gathered over three decades we conduct a comparative test, attempting to account for the expressed foreign policy preferences of policy makers by means of the preferences of the general public and those of several distinct sets of elites. The results of cross-sectional and time-lagged analyses suggest that U.S. foreign policy is most heavily and consistently influenced by internationally oriented business leaders, followed by experts (who, however, may themselves be influenced by business). Labor appears to have significant but smaller impacts. The general public seems to have considerably less effect, except under particular conditions. These results generally hold over several different analytical models (including two-observation time series) and different clusters of issues (economic, military, and diplomatic), with some variations across different institutional settings (the US. House, Senate, and executive branch).